Post by sonny615 on Mar 1, 2019 9:49:42 GMT
Disclamer: These are my initial thoughts and they may change once I play more of the Fire Promoter mode. Once done, I will also post my complete thoughts on the Steam forum.
I love simulation games and I love drawing analogy between two of my favorite games, Fire Pro and Football Manager. Now, it is obviously not a 1:1 comparison. One is football (or soccer), the other one is wrestling. One is very well budgeted with a ton of scouts across the globe and constantly stars on the best selling games on Steam, the other one is a small budget, small team niche game for a niche genre.
Still, there are quite a few similarities. Both simulate their sport very well. Both have in depth stats for players\wrestlers. Both are very customizable and in both games you can influence the players' behavior.
I think that with relatively little effort, the Fire Pro team can implement many aspect that make FM so successful and make the game much better.
Through the in-depth customization and a good engine, Fire Pro emulates a match very well. This, in my eyes is similar to the team tactics customization in Football Manager. You put the players in positions and give them in depth instructions of how to behave in every situation. In both game you make the set-up and adjustment, then sit back and watch the match unfold. If something isn't right, you make the needed changes and head into the next match, hoping for a better result.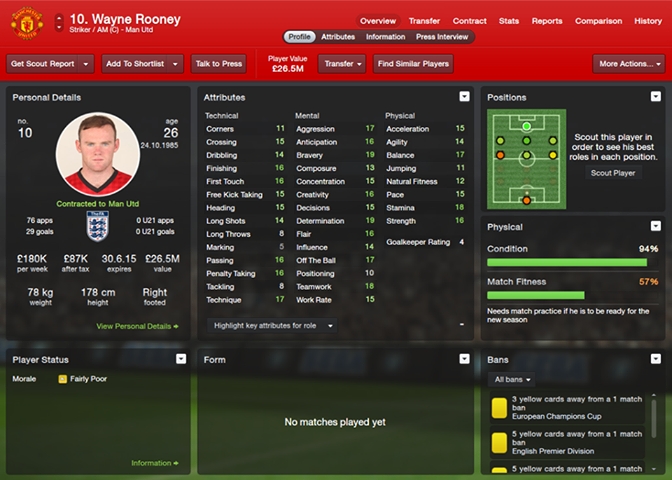 Of course, Football Manager emulates the FULL experience of a team. Leagues & cup competitions, budgets, signing staff & players, training & youth development.
While having a great match engine, Fire Pro was missing the 'complete' management aspect mentioned above. That's where Fire Promoter stepped in.
I have to mention that in my opinion, this is where players expectation and reality didn't meet.
Players were expecting a mode that will allow them to choose a fed, be it premade or not, and get a tool that will allow them to simulate the management of that fed within the game and within a customized universe. This is something that most players were doing anyway be it in Excel, text or in Fire Pro Forums.
We did get some of that. However, the many limitations and restrictions push us into the same experience over and over again: start from scratch with a very small roster and very limited actions, then grow your fed slowly.
In my eyes this is somewhat of a miss. I was expecting a Fire Promoter and instead got an Indy Promoter. I think the core player base wanted a flexible simulation tool rather than a game mode with simulation elements.
Why can't I choose to have any kind of roster size I want? Why can't I start big? Why can't I send 2 or 3 or 4 scouts to look for talent? Why can't I sign as many players as my budget allows me to?
In Football Manager you can choose a team from the 5th league in England but you can also choose Manchester United with a sick budget and world class players. You will still have to manage players, staff and finances. Random events will still happen, players will still get injured and upset over your decisions. Events will still happen.
The great thing about Fire Pro has always been its great simulation and the freedom it gave us, players, in choosing our path and our way to play.
While Promoter gives us a taste of managing a fed, I feel like the unnecessary restrictions and eventually forcing the players into a single scenario prevent this mode from being great and having longevity and replayability.
I will add more thoughts later on!