Post by Shadow Master on Dec 9, 2020 12:39:02 GMT
Subtle inclusion or not, how many real-life Wrestlers have you spotted in other video games?
I'll get the ball rolling with a few examples that come to mind:
Andore - Final Fight 1 - 3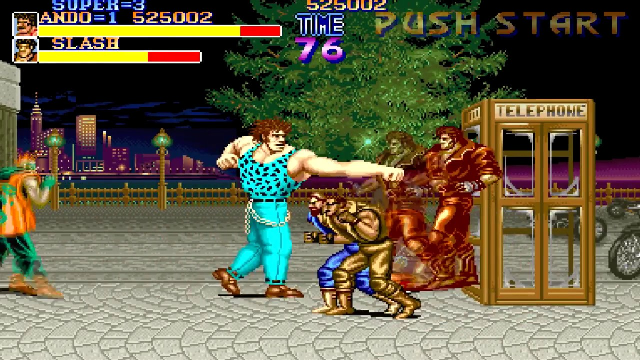 The Andore family are a collection of enemies inspired by Andre The Giant. Andore would be renamed
"Hugo" in the years to follow.
Burnov - Double Dragon II

Being billed as another former Pro-Wrestler, Burnov is a masked big man that was inspired by Big Van Vader
and Heart from Hokuto No Ken.
Ultimate Fighter/ Hiryu No Ken S Golden Fighter:


Zebra is a culmination of Ultimate Warrior and Macho Man Randy Savage. Zebra even has Warrior's flying
shoulder block.
Huge Hugh is known as "Gym Owner" in the Japanese port; a reference to the original Tiger Mask
(Satoru Sayama)'s reinvention as Super Tiger. Satoru also had his own "Tiger Gym".

Samurai Sanada and the other palettes are a mixture of other shoot luminaries which include Nobuhiko Takada,
Akira Maeda and Antonio Inoki.

Leo looks like he was inspired by Street Fighter's Adon.

The standard shoulder spikes thugs found in the game are clearly inspired by The Road Warriors.
Buchu - Ye Ar Kung Fu
As you may have guessed, "Buchu" was modelled after Abdullah The Butcher. Buchu's attire is also based
on the white Taekwon Do pants Butcher wore when winning AJPW's PWF Championships between 1975 and
1978.
Hana Taka Daka: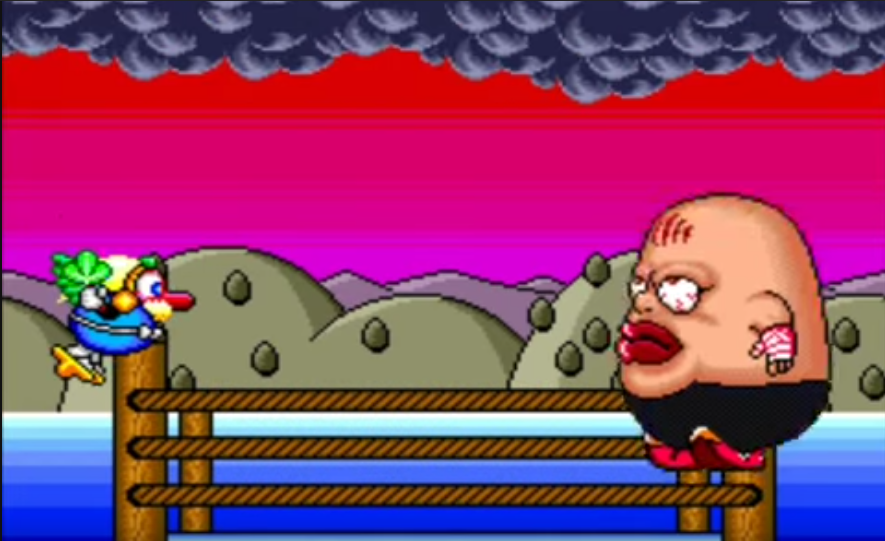 The first boss of obscure TurboGrafx-16 shooter is Abdullah The Butcher complete with a Wrestling ring backdrop. What's more?
This boss even bleeds naturally while he paces back and forth!
Toukon Club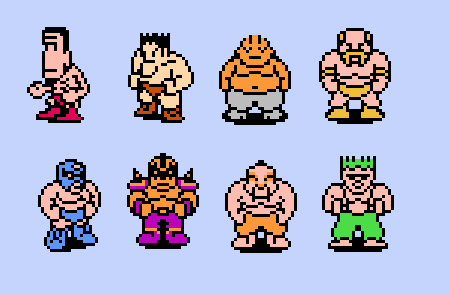 Toukon Club is a Famicon exclusive Wrestling game released in 1992 by Jaleco. The roster includes:

Great Shohei - Giant Baba

Anton Inoue - Antonio Inoki

Abraham The Bloody - Abdullah The Butcher

Iron Lips (a nod to Hogan's Thunderlips persona in Rocky) - Hulk Hogan

Dol Masquerade - Mil Mascaras

Black Barbarian - Road Warrior Animal

Lee Han Tao - Killer Khan

General Geggeben - a generic fighter exclusive to this game. His backstory states he is a bullfighter from Spain
and described as "an artist of the ring".
Pro-Wrestling

This is common knowledge by now but the roster of HUMAN's original Wrestling game was inspired by
a number of notable real-life Wrestlers. Including:

Fighter Hayabusa - Antonio Inoki

Starman - Mil Mascaras

King Corn Karn - Killer Khan

Giant Panther - Hulk Hogan

The Amazon - Abdullah The Butcher & Tiger Jeet Singh

King Slender - Ric Flair

Great Puma - Tiger Mask

Appoooh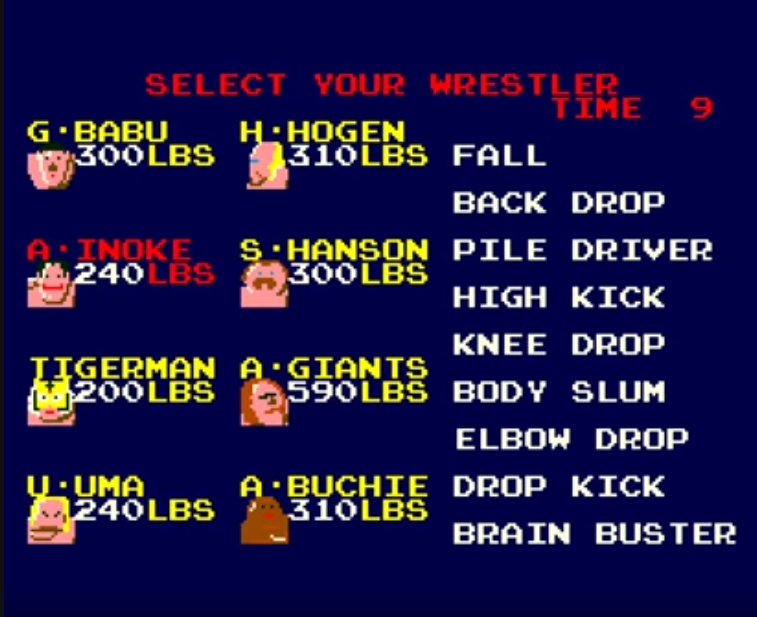 Released in Japanese arcades back in 1984, the weird name of this title "Appoooh" is said to be the onomatopoeia

(sounds spelled out) of a Wrestler hitting the mat.
The roster is as follows:
G.Babu - Giant Baba H. Hogen - Hulk Hogan
A. Inoke - Antonio Inoki S. Hanson - Stan Hansen
Tigerman - Tiger Mask A. Giants - Andre The Giant

U. Uma - Umanosuke Ueda A. Buchie - Abdullah The Butcher

Rantou Pro-Wrestling:
Another early Wrestling title that was released for the Epoch Super Cassette Vision in 1986.

The roster is:

Gian - Giant Baba
Maddison - Hulk Hogan
Anthony - Antonio Inoki
Ishin - Riki Choshu
Barbarian - Road Warrior Animal
Eagle - Road Warrior Hawk
Kong - Bruiser "King Kong" Brody
Olsen - Stan Hansen

Fighter's History

Boss character Karnov (yes,
that
Karnov) is based on Abdullah The Butcher; complete with genie pants, arabian headwear, pointed shoes and gig marks.
Zazi is based on Willie "Bear Killer" Williams.
Ryoko is based on real-life Judoka champion Ryoko Tani.
The Pro-Wrestler Marstorius is based on Bruiser Brody.
World Heroes: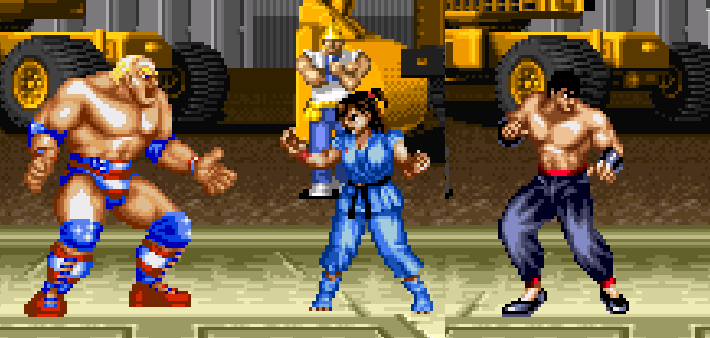 Beyond the plethora of historical figures, the World Heroes series also includes Pro-Wrestler Muscle Power
(Hulk Hogan), Ryoko (Ryoko Tani) and Kim Dragon (Bruce Lee).
Dead Dance / Tuff E Nuff: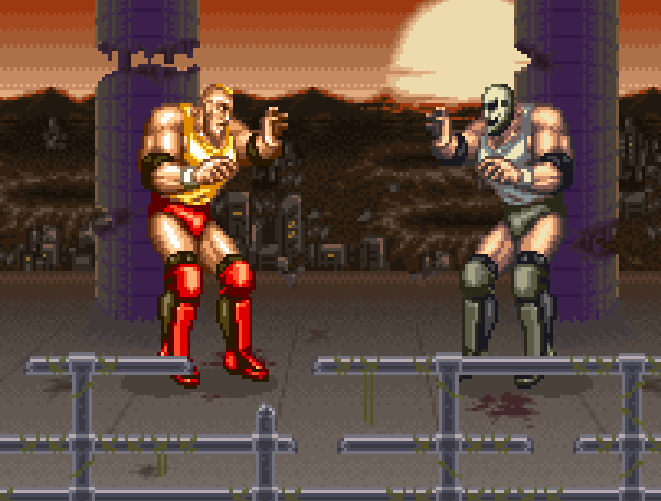 Playable character Vortz may be billed from Holland, but he is based on Hulk Hogan. Boss character Gajet is
inspired by Super Strong Machine (or Hulk Hogan's Hulk Machine gimmick, if you prefer).

Hammerlock Wrestling/Tenryu Genichiro Pro-Wrestling Revolution: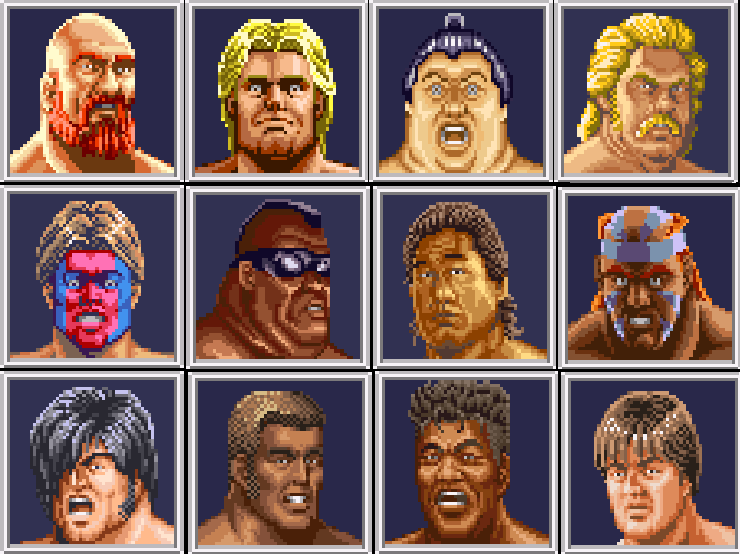 Jaleco returns once again with another Pro-Wrestling title released on the SNES and Super Famicom in 1994.
Like other titles at the time, only one Wrestler was actually licensed (in this case, Genichiro Tenryu on the Japanese
port) while the rest of the roster is composed of recognizable faces, popular Wrestlers during the time or longstanding
rivals of Tenryu's all under different aliases.
Sam Warhammer (Hulk Hogan)
Ivan Destra (Lex Luger)
Mondo Fundi (Yokozuna)
Baron Kaiser (Stan Hansen)
Great Max (Great Muta)
Sid Bieniek (Abdullah The Butcher)
Oga Prime (Genichiro Tenryu)
Alpha Bozak (Hawk)
Selvis Takito (Shinya Hashimoto)
Spud Marmoset (Mitsuharu Misawa)
Ace Wagata (Jumbo Tsuruta)
Moe Fudo (Keiji Mutoh)
Saikyou Takada Nobuhiko - The Pro Wrestling: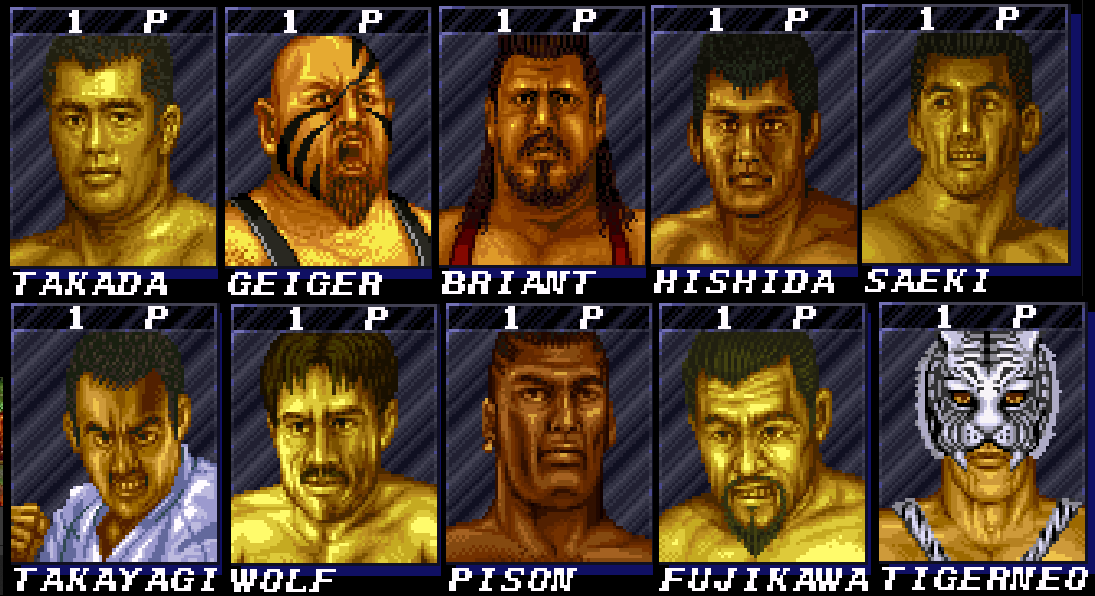 Hudson Soft's 1995 2D Fighter is based on the now-defunct UWFI promotion. In standard fashion, the only licensed Wrestler is UWFI star Nobuhiko Takada.
The roster is:
Nobuhiko Takada
Big Nova Geiger (Big Van Vader)
Gary Briant (Gary Albright)
Akitoshi Hishida (Akira Maeda)
Masashi Saeki (Masakatsu Funaki)
Akiteru Takayagi (Masaaki Satake)
Murder Wolf (Volk Han)
Morris Pison (Mike Tyson)
Hiroaki Fujikawa (Yoshiaki Fujiwara)
Tigerneo (Super Tiger)