Post by Old Baby on Jul 18, 2018 13:31:06 GMT
Just a little pack for FPR that I put many hours into and was very proud of.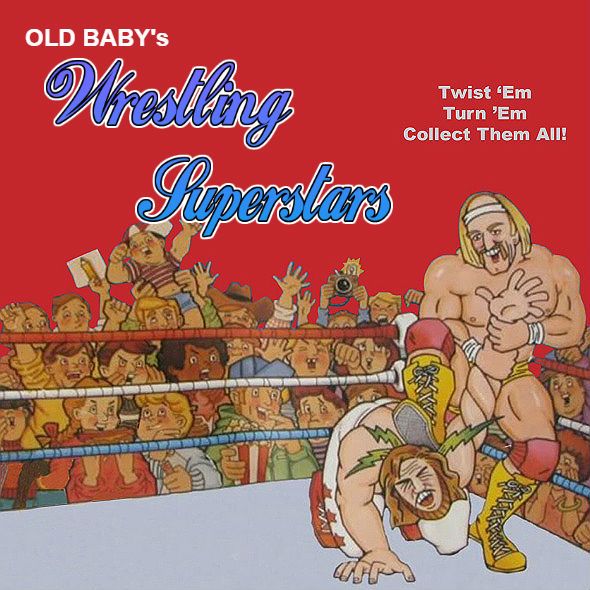 UPDATE 10-10-16:
I've been working on this save almost every day for over a month now, and I'm very pleased to finally release Version 1.0. Just 20 edits, plus rings and refs. I know... over a month for 20 edits? It's because I'm just too damn nitpicky with my own stuff. Having said that, I'm sure someone will find something that I missed. Regardless, this is what I hope to be just the beginning. Now that I've laid the foundation, I'd like to release updates to this pack in additional series of 20 edits every month or two. Let me know what you think and thanks for trying them.
Series 1 Version 1.0 is now available here
:
www.dropbox.com/s/xssszjoyg2ri6r2/oldbabyws1_0.max?dl=0
If you want to see what's included in this download, scroll down and check out the Series 1 spoiler.
F.A.Q.
WTF is Old Baby's Wrestling Superstars?
A - OBWS is an edit pack that I plan to release within a few weeks. After 12 years of playing FPR with other peoples' fantastic edits, I've decided to finally create and release my own pack.

What's different about OBWS?
A - The main difference is that I'm approaching my edit pack as if it is an action figure line. That means instead of trying to make everything and release it at once, I'm going to be releasing edits in waves or series. Each series will include 20 edits. As the line progresses, some edits (figures) will get additional releases to reflect changes in their appearance or personality. I chose the name "Wrestling Superstars" for this pack, as it was the name of the beloved line of WWF action figures made by LJN in the 1980's.

What makes your edits worth using when these characters have already been made by so many other talented creators?
A - Maybe nothing. That's for you to decide. I think everyone has their own tastes when it comes to simming matches. I've never yet used an edit pack that I didn't tweak to my liking. For example, I don't like when standing strikes are turned up so high that the edits are whiffing with strikes like it's a boxing match, so I turn those down to see more grappling and less circling and punching the air. I also like to see more rest holds, so I try to make my edits favor arm bars, chinlocks and half crabs over just picking the opponent up during early-mid match. It really all comes down to taste.

Are your edits 100% original?
A - Yes. I started from scratch on everything. I started with StarrCade '83 and worked forward to get my movesets, then filled in the blanks with matches on Youtube. In a few instances, I deferred to another pack because I really liked their head choice or their blue jeans color, but that's as far as my thievery goes.

What wrestlers will be made in future packs?
A - Since I'm using these edits for my own fed, I'll be making anyone who I want to use. Most likely you'll see the best/most interesting versions of each wrestler. So, I'll make a few versions of Mr. Perfect but probably not an AWA Curt Hennig. I'll make an NWA Dusty Rhodes but probably not the yellow polka dot, just because I don't care about polka dot Dusty. As of now, I have no plans to make an Ole Anderson just because I'd much rather use Arn and Tully in my tag division. You probably won't see Brad Armstrong, Terry Taylor, Billy Jack Haynes, or Virgil. You WILL see guys like Honky Tonk Man, Larry Zbyszko, Keiji Mutoh and Nick Bockwinkel. You WON'T see anything from the Attitude Era. My packs will cover Rock & Wrestling/New Generation with a smattering of wrestlers from before and after, including Bruno Sammartino and Stone Cold.

Are you good at making edits?
A - I am pretty picky when it comes to edits. I'm rarely satisfied without tweaking. All I can tell you is that I am making edits that satisfy my simming tastes. These edits will be thoroughly tested before they are released. Then, it's up to you to decide if they suck.
Series 1: Available 10/10/16
1. Andre the Giant (WrestleMania)
2. Arn Anderson (StarrCade '85)
3. Big John Studd (WrestleMania)
4. Dusty Rhodes (StarrCade '85)
5. Hulk Hogan (WrestleMania)
6. Iron Sheik (WrestleMania)
7. Ivan Koloff (StarrCade '84)
8. Jimmy Snuka (War to Settle the Score '85)
9. Junkyard Dog (WrestleMania)
10. Magnum TA (SuperClash '85)
11. Nikita Koloff (StarrCade '84)
12. Nikolai Volkoff (WrestleMania)
13. Paul Orndorff (WrestleMania)
14. Ric Flair (StarrCade '83)
15. Ricky Morton (StarrCade '85)
16. Robert Gibson (StarrCade '85)
17. Rowdy Roddy Piper (WrestleMania)
18. Tito Santana (WrestleMania)
19. Tully Blanchard (StarrCade '84)
20. Wahoo McDaniel (StarrCade '85)
Series 2 Preview: (lineup subject to change)
Changes:
- Arn Anderson: Changed red shade of tights to match Tully Blanchard.
- Magnum TA: Lowered frequency of pin attempts to make him more consistent with roster.
- Nikita Koloff: Increased frequency of going for Russian Sickle.
- Ric Flair: Increased chance of winning via quick pins & changed Critical to Technical to improve chance for "lucky" wins.

1. Bruno Sammartino (WrestleMania 2)
2. Brutus Beefcake (WrestleMania 2)
3. Butch Miller (Crockett Cup '86)
4. Butch Reed (Parade of Champions '84)
5. Chris Adams (Parade of Champions '85)
6. Davey Boy Smith (Wrestling Classic)
7. Dynamite Kid (Wrestling Classic)
8. Great Kabuki (Parade of Champions '84)
9. Greg Valentine (WrestleMania 2)
10. Kamala (Parade of Champions '85)
11. Kerry Von Erich (Parade of Champions '84)
12. Kevin Von Erich (Parade of Champions '85)
13. Larry Zbyszko (SuperClash)
14. Luke Williams (Crockett Cup '86)
15. Mil Mascaras (SuperClash)
16. Nick Bockwinkel (Battle for the Belts II)
17. Ricky Steamboat (WrestleMania III)
18. Ron Garvin
19. Sgt. Slaughter (SuperClash)
20. Terry Funk (WrestleMania 2)